Ayana's Legacy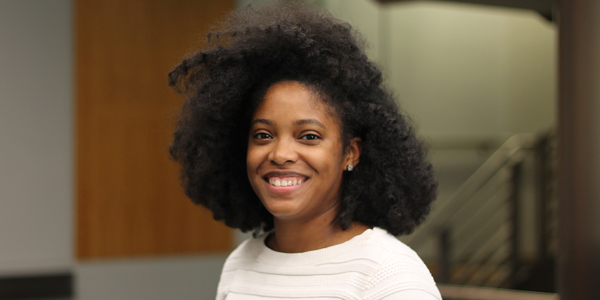 Philadelphia native Ayana J. Bennett '10 never dreamed of going to college because no one in her family ever had. She never even talked to anyone about the possibility as she was growing up.
"I went to one of the worst high schools in South Philadelphia," Ayana says. "I didn't know anything about college and I never expected to. I was going to be happy to just get a job after I graduated."
As a senior in high school, Ayana spent half her days going to class and the other half working in the medical records and billing department at Thomas Jefferson Hospital with the end goal of going straight from high school to a full-time position.
But her high school guidance counselor saw a potential for more, and insisted that she join her and a group of students for two college campus visits – one to nearby West Chester University and the other to Bloomsburg.
"As a high school student, especially at my school, the idea that you could graduate and start working full time at a major health system was great," Ayana adds. "But I wasn't thinking long term. Lucky for me, I had someone to encourage me to look at the bigger picture."
From the moment Ayana arrived at BU and learned that she could go to school and live on her own, she was in love with the idea. So, her guidance counselor helped her search for different available scholarships.
"I was in her office every day writing essay after essay for scholarship applications," says Ayana. "I ended up qualifying for six different scholarships, and suddenly, the idea of going to college was becoming a reality."
Though she maintained a high GPA in high school, Ayana did not score well on her SATs. This meant she had to attend summer classes provided as part of the ACT 101/Educational Opportunity Program, which provides support and opportunities for success to students traditionally under-represented in higher education.
"The faculty, staff and students in the ACT 101 program became my family," Ayana adds. "They provided a support system and helped give us confidence and showed us that we had a voice."
When she learned that her classmate, Kimberly Abney '09 had made a gift to provide an annual scholarship for current BU students, she was intrigued. Abney connected Ayana with a contact at the BU Foundation who helped her set up her own annual scholarship.
"Thanks to the scholarships I received, I graduated from BU debt free," says Ayana. "When I learned that Kim was making a gift that could benefit students right away, I wanted to do the same."
She was particularly inspired when she learned she could create a Virtual Endowment Scholarship by pledging a $25,000 gift in her estate to BU. With that planned gift and an annual gift of $1,000 per year, she can provide immediate opportunities for students just like herself who lived in Philadelphia and were in the Act 101 program.
As a scholarship donor, Ayana was invited to the annual Bloomsburg University Scholarship Luncheon in February 2018 where donors spend time with their recipients and learn more about their experiences and how the scholarship has impacted their education.
Due to the timing of her gift, no recipient had yet been named for to receive the scholarship, but she still decided to come back to campus to catch up with old friends and mentors.
"I sat with Kim and her recipient, and saw how they interacted with each other and really got a sense of the difference this gift was making for her student," says Ayana.
Bennett was so inspired, she decided to increase her annual giving to $2,000 per year to support two students each year and plans on continuing to do so for as long as she is able.
"There's not a lot of people who make it out of my community and reach back to help others. They just think about the short term." Ayana says. "Because other people were looking at the big picture for me, I had a lot of help to get where I am today. So why shouldn't I do the same to help others?"