Morrie's Legacy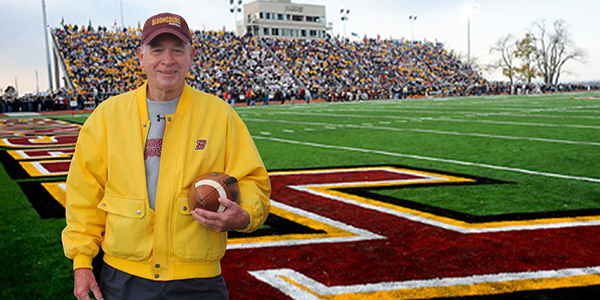 Morrie Schultz '59
"When I started at BU in 1952, I was 17 years old," says Morrie Schultz '59, "I didn't know what I wanted to do with my life and I struggled with school my first year. After that first year, I joined the Marine Corps." Schultz returned to BU in 1955 as a sophomore and says the detour made a dramatic difference. "I went from being a poor student to making dean's list and was included in "Who's Who in American Colleges and Universities in my senior year."
It was while in the service, that Schultz heard from Dr. John Hoch, Dean of Men at the time, about a new program in speech correction.
"It was one of the more challenging, but better things I've ever done," says Schultz, a retired audiologist now living with his wife Lynn in Palm Beach County, Fla.
The first in his family to go to school, Schultz says even with many odd jobs, money was tight. Although he played football, football scholarships didn't exist. "I worked every job imaginable, delivered beer, did odd jobs all over town, mowed faculty members' lawns in order to make money."
During his junior year, he attended a pep rally in Carver Hall and was called to the stage and presented with a check for $500 by Jack Yohe, the football coach. "That check was such a blessing to me."
Today, he still remembers the relief he felt when he held that check, a feeling that prompted Schultz to endow his own athletic scholarship at BU.
"I was blessed and I thought I should share that blessing," says Schultz. "Originally I wanted to establish a scholarship for football players, but I made it for athletics in order to open it up to more students. I didn't want to be selfish."
After graduation, Schultz worked as a speech therapist in the Luzerne County School District. In 1960, he was offered a job at Geisinger Medical Center. "When I got there, I learned that they were more in need of an audiologist and so I returned to get my degree in audiology."
In 1966, Schultz had an opportunity to develop the first clinical audiology program in Palm Beach County, followed by the first school-based services for students. He became active in the Florida Association of Speech Pathologists and Audiologists, as well as a number of other professional organizations until his retirement. Throughout his successful career, Schultz remained connected to the university and the friends he made at BU.
"BU is unlike any other source of friendship - that's the very unique thing about the university," says Schultz, who keeps in touch with many of them. "They're the greatest bunch of people I've ever known. They're the salt of the earth - we've gone through a lot together. "
In 2009, Schultz and his wife Lynn were on a cruise in Bermuda when she suffered a serious medical emergency and was flown to Johns Hopkins. "During that time, several of my Bloomsburg buddies in the Northeast traveled to Baltimore to be with us and lend support. Those are the kind of friends you make at BU," he emphasizes.
Schultz hopes the students supported by his scholarship have the same exceptional educational experience he had at BU. Although his gift was sufficient to endow his scholarship, he plans to continue to contribute. "I haven't shared this with my real close buddies, but they know how much I love Bloomsburg. I don't want to brag, but maybe some of them will follow in my footsteps and either establish their own scholarships or contribute to mine."
In 2016, Schultz bolstered his scholarship by adding a planned gift component. He took out a life insurance policy and designated the Bloomsburg University Foundation as the beneficiary. This allows 100% if the designated amounts to be directed to his scholarship, which will further insure his legacy of support for the institution he loves.
"I'm so proud of Bloomsburg University. It's truly exciting to see the way it has grown and developed over the years and is now enjoying much deserved recognition. It changed and improved my live and many others' lives immensely."