Tom and Ceil's Legacy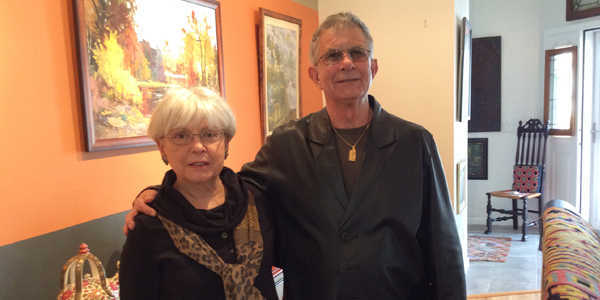 Thomas '65 and Cecelia '66 Toth
They met at a Fall dance in the Husky Lounge in September of 1962. Tom, a biology major, was a sophomore. Ceil, a freshman, was majoring in mathematics with a minor in French. Both were working hard to get their degrees and become teachers. Support for education mattered.
"We both had to work during the summers we went to Bloom," says Tom. "Ceil worked two jobs every summer during her first three years at BU and she held a job at BU during each academic year."
Ceil says she received a small scholarship, but the bulk of her education was paid for through loans and the money she earned. She did her student teaching during the first half of her senior year so she could graduate early and save money.
Tom painted rooms and did landscape work during the summer of his first two years of BU. During the summers of his last two years, he says he was fortunate to be employed by Bethlehem Steel. His income was higher and that took a lot of the worry out of financing college.
The pair taught in the Baltimore County School System for more than 30 years. Ceil was a Mathematics Chairperson for the last 20 years of her career at a middle school. Tom taught honors biology and general sciences and was chosen as a Gifted and Talented Program teacher in 1979. In that role, he helped the school district develop a Gifted and Talented Program that received national acclaim. Now retired, Tom mentors a student each year at Long Neck Elementary School in Delaware and they both participate in the Big Brother Big Sister program.
Support for education remained a priority. In 2013, Tom and Ceil endowed the Thomas J. and Cecelia Mistal Toth Scholarship to benefit students of any major through a planned gift in their will. They plan to contribute to the fund each year.
"We both realize how financially difficult it can be for today's college students and their parents," says Ceil. "We are thankful we can be of some help to them."
In addition to supporting their scholarship, the Toths also regularly donate artwork to the university. Ceil's brother, Stanley R. Mistal was an artist who introduced them to the art world in the 1960's. The Toths hoped their collection could find a permanent home at BU and say they were thrilled when the university agreed to house it. Over the years, in addition to Stanley's paintings, the Toths amassed a large collection of paintings by mostly Hungarian artists, many of which are now part of the university collection. The collection is currently on display in Centennial Hall.
"We hope that the art we donate will inspire the students of BU to express themselves through art, even if they are not art majors." and to give everyone the opportunity to learn and appreciate art as a creative vehicle.
"We try to visit BU once a year for homecoming or the Annual luncheon for scholarship donors and recipients," says Ceil. "The annual luncheon is a wonderful opportunity for us to meet our scholarship recipients."