George and Laura's Legacy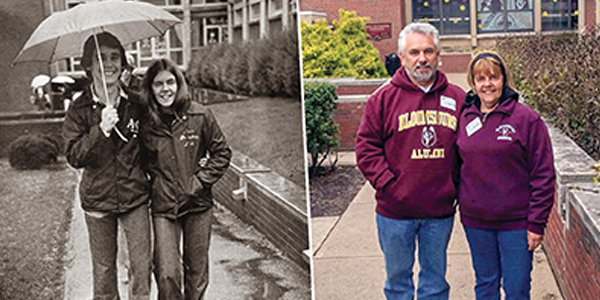 "I believe it's the foundation you build that sets you on the right path to success and for me, that foundation was Bloomsburg," says George Antochy '79 retired United states Army Colonel and IT professional.
That's why he jumped at the opportunity to return Bloomsburg last year, from his home in Mansfield, Texas, to participate in BU's Career Intensive Boot Camp, a component of the university's Professional U initiative, to help mentor students and provide advice and guidance in helping them to pursue their careers.
Mentoring students toward the right path is an area where Antochy feels he brings a perspective that will be especially helpful to current students, due to his own experience at Bloomsburg and in the military.
After nearly 8 years of active duty, Antochy left the military and parlayed his BU and military experience into a 26-year career in the IT industry. The first two years at a sales job in IT and the next 24 as an IT Specialist with the Federal Aviation Administration as a manager of a remote office responsible for all the organization's personal computers.
The message he delivered to students when he returned to campus, as he stressed that the best way to set the foundation for success, was to learn to successfully present themselves and build their own self-confidence.
As an ROTC scholarship recipient, he was obligated to spend eight years in the army - four on active duty and four on reserve duty. During that time, he seized the opportunity to forge his own path to success.
"The lesson I learned from that experience was that the most important thing you can do is to educate yourself as you go. When I came back to BU, I was very excited to see so many students there, participating in opportunities like the career boot camp, to better themselves and further their careers," adds Antochy. "They are already laying the first blocks for a solid foundation that will certainly set them on the right path."
George and his wife Laura '79 were so inspired by George's trip back to BU, they established a scholarship through a planned gift to the university to support BU students forging their own paths for years to come.