Roland's Legacy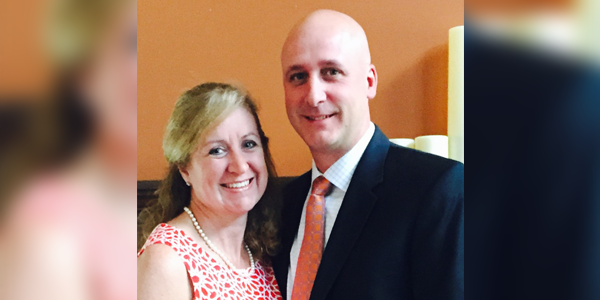 Roland Lamy '91
When Coach Burt Reese reached out to Roland Lamy '91 asking him to add Bloomsburg to his list of college possibilities, Roland was skeptical.
"I had no idea what Bloomsburg University was all about," says Roland. "But Coach Reese asked me to at least take a look."
With list in hand, Roland set off with his father and over the course of a week and a half, visited several schools, mostly in the south. Bloomsburg was the final stop.
"When I arrived, I immediately felt at home," says Roland. "The size of the campus, the student body, the condition of the campus and the people on staff were so accommodating; it was immediately a different feel than I had visiting other schools."
Roland spent several days at BU, researching the Business School and talking and interacting with some of the student athletes. "That feeling of "home" along with the value of the education were the reasons why Bloomsburg was the obvious choice for me."
"I made several friends at BU, several of which remain my best friends," says Roland. "We get together once or twice a year, despite the fact that we're spread out all over the country.
Commencement came; Roland married and moved on. Now a partner in a small healthcare consulting firm, the former business administration major works with or on behalf of healthcare service providers. But BU remains a big part of his life.
While he remembers the comfortable campus and lifelong friends fondly, Roland says the person who had the greatest impact on his student experience was tennis coach Burt Reese.
"He was serious about the student-athlete with the emphasis on student," says Roland. "We had great talent on each team all four years I attended BU, but it didn't matter how good you were. The standard was the same for everyone and emphasis on classroom was the priority."
"Coach Reese had a quiet presence, but his points were clear, and I think he really understood how to challenge a young man to be better, both on the field of play and in life. I have enormous respect for him in that regard. I recall struggling in my initial semester. He challenged me to do better, talked to me about the difficulties I had adjusting and made recommendations. He was a hands-on coach and always took the time if you needed it."
Roland received a partial scholarship and says he appreciated the help it gave him. He wants today's students to have the same opportunity he did.
In 2010, he made a planned gift of $25,000 in support of the Burt Reese Tennis Endowment fund. "I see so many people struggle with student loans. The cost of education at Bloomsburg is still a great value and I feel like I was afforded a gift of sorts. Between my partial scholarship and my parents' support, I graduated without owing one dime. How many people get to say that?
"The value of the education, what you pay and what you receive at Bloomsburg is second to none and that is a large reason why I feel like supporting the university and giving something back is important."
"I hope that my support can foster an experience for other student-athletes that is similar to what I had," adds Roland. "The challenges today graduating are even greater than what I experienced twenty-plus years ago. I want others to come to BU, experience the same feeling of "home," receive a great education, meet friends for life and pursue that athletic dream. Whether that athletic dream is realized or not, when that student graduates, he/she will have the tools necessary to be successful in whatever the chosen field."