Bob and Mark's Legacy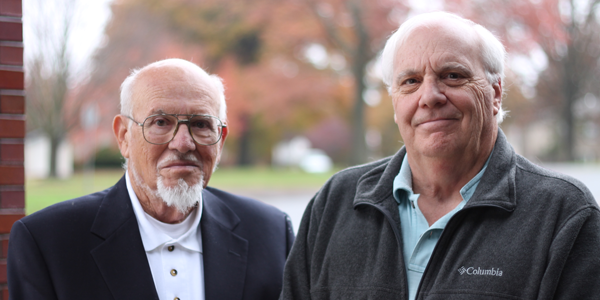 Mark Keyser '75 and Bob Yori, Ph.D. '57
For Mark Keyser '75, who grew up in Lewisburg, PA, the idea of going to a big school wasn't very appealing. After visiting several colleges, he chose to attend Bloomsburg because of the small-town feel of campus.
"I was always a bit introverted and the atmosphere here is what made me most comfortable," says Keyser. "But the people I met and the professors I encountered at Bloomsburg really helped me to venture outside of my comfort zone."
One particular professor, Robert "Bob" Yori Ph.D., inspired Mark so much that he decided to establish a scholarship in his name.
When Yori learned that Mark had made the gift in his honor, he was touched by the sentiment and delighted to know that his relationship with Mark had such a positive and lasting impact. In 2017, Yori made a planned gift to increase the endowment that Mark started for him.
"My daughter and I were reviewing my will, and I had it set to leave everything to her," Yori says. "But then we began exploring other possibilities, and when I suggested leaving some to BU to further support the generous gift that Mark had established, she enthusiastically supported the idea."