Linda's Legacy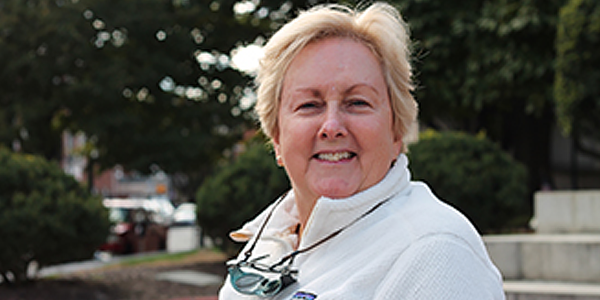 As a first-generation college student, and the third of six children, Linda Williams '77 wasn't exactly sure what she was going to do with her life, but she knew she was going to make something of the opportunity.
"At 17, I had no idea what I wanted to do as far as a career, so I did what my father told me to do," Linda says as she reflects back on her decision to pursue a degree in business education. "The majority of young women I knew who were going to college were studying to become teachers, and my dad thought that would be the best choice for me too."
After graduating from Bloomsburg University with a degree in business education, she thought she was on the path to becoming a teacher and everything was going to work out just as she had planned. Linda stuck to her plan and stepped directly into a role as a high school teacher. But after just six short months, she realized this was not the job for her.
"I just knew it wasn't the right fit and I couldn't see myself doing it for the rest of my life," says Linda. "The good thing about my major was that it was exposed to a mix of business and education classes that prepared me for work outside of teaching in the business world too."
Linda took the skills she acquired in those business courses and turned them into a very successful 38-year career in sales. She started out selling paint supplies and hardware and then sold office furniture, before she found her niche - auto sales, where she spent the majority of her career. She truly cherishes her experience at Bloomsburg, from the education that prepared her for a successful career to her time on the swim team where she created lifelong friendships and lasting memories.
"Going to college just opened up my world to all kinds of different people," Linda says. "I was very shy and my world was very small before."
As the years passed Bloomsburg became even more important to Linda and her family as her sister Carol went on to graduate from BU in '85. Continuing the family legacy, her nephew Braden completed his degree in '17 and her other nephew, Cory is currently enrolled at BU.
Linda, who currently lives in West Chester, Pa., still gets together from time-to-time with some old friends when the Huskies travel to West Chester University every other year for swim meets. Among those old friends is BU swimming coach Stu Marvin, who was on the swim team with Linda back when they were students.
Those 'mini reunions' as she called them even led to a white water rafting trip through the Grand Canyon in 2012. "That trip was a once in a lifetime experience," Linda says. "If I had to name the top 10 best things I've done in my life, one of them would be that trip." Said Linda.
Linda and her family's experiences at Bloomsburg have meant so much to her, she was inspired to make a gift to Bloomsburg in her estate plans through a bequest in her will, hoping to provide similar experiences for future students.
"No matter what you do for a living, no one can take away your college degree, your values, or your experiences," says Linda. " I'm very proud of my degree. I received a great education for a great value. So I just feel it's really important to give back and help a student afford college because I know just how expensive it can be to attend today."